Founded in 1837, the 140-voice Oberlin Musical Union is the second-oldest continuing choral tradition in the United States. (Only Boston's Handel and Haydn Society, founded in 1815, represents a longer ongoing tradition.) This group performs the great works for chorus and orchestra, an important part of the repertoire. Recent presentations include Lauridsen's Lux Aeterna, Orff's Carmina Burana, Haydn's Creation, Ravel's Daphnis et Chloé, Brahms' Ein deutsches Requiem, Verdi's Requiem Mass, Poulenc's Gloria, and Beethoven's Missa Solemnis.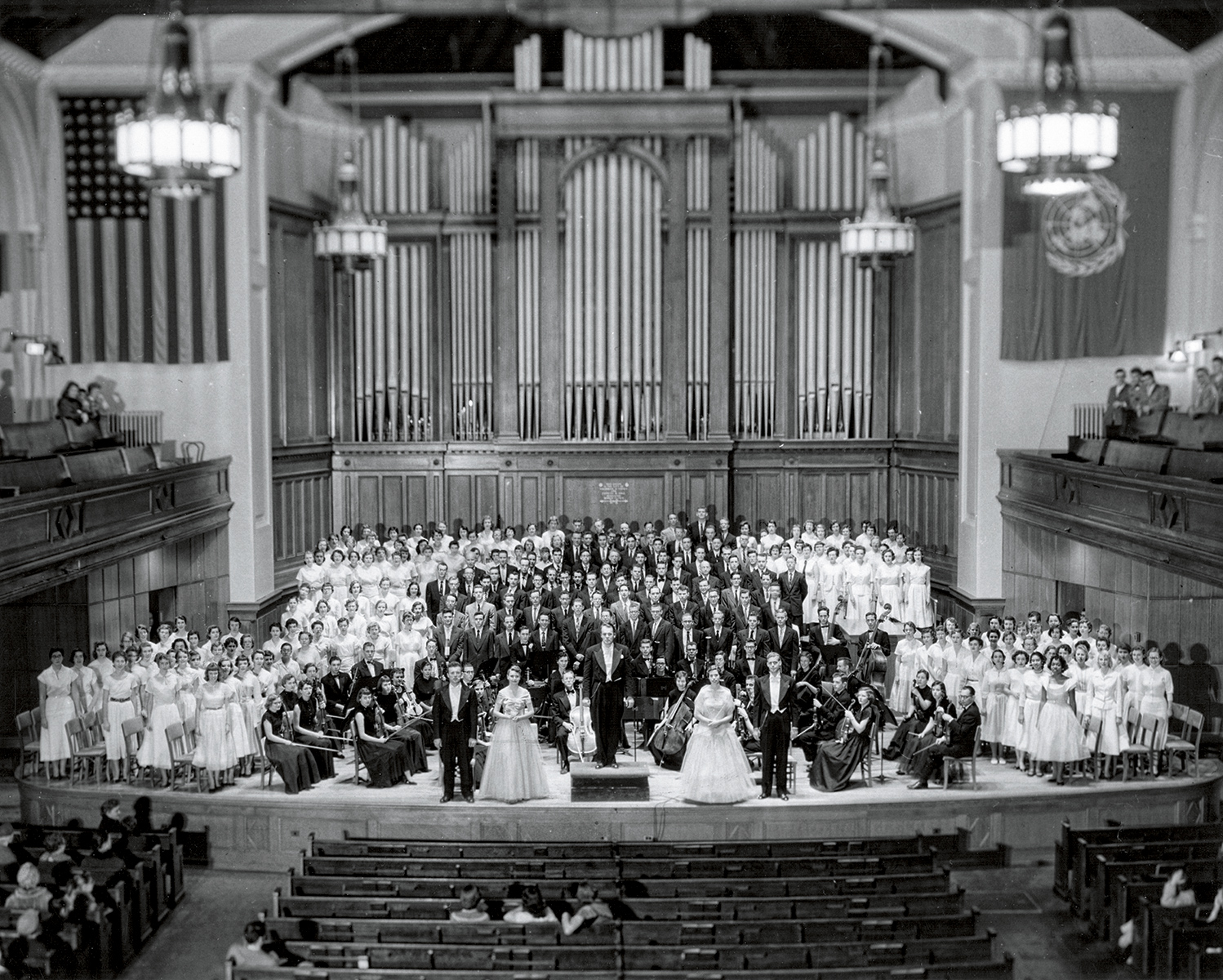 1954 concert Photo Courtesy of Oberlin College Archives
The Musical Union was founded by George Nelson Allen (pictured here), who transferred to Oberlin Collegiate Institute in 1836, after finding his "liberal views on reform and theology" in conflict with those held at Western Reserve College in Hudson, Ohio. While still a student here, Allen was appointed "Instructor in the Science of Music," and he needed a choir. His vision led to Musical Union, a chorus of campus and community singers whose early performances helped fund major projects at Oberlin. Pictured here at a 1954 performance of Mozart's Requiem in Finney Chapel, Musical Union today boasts the second-longest continuous choral tradition in America. As the conservatory celebrates its 150th anniversary in 2015, Allen is remembered as a pivotal figure in the institution's history, and Musical Union is celebrated as an enduring tribute to Oberlin's legacy of community engagement and inclusion.
In an essay in the 1918 college yearbook, Hi-O-Hi, the musicologist Edward Dickinson linked the history of the ensemble to the oratorio genre and significantly notes its collective nature: "A choral society is a social force as well as a center of musical culture. The value of music is eminently a social value, and this is especially true of those forms of music which require a mass of singers for their production.… Ever since the oratorio took its final cast and function in the time of Handel, it has been, unlike the opera, democratic in its tendency, employed in the service of those ideas which appeal to the common experience." Thus the Musical Union at Oberlin was an ensemble that "helped to mould the spirit of the Oberlin College and community life" (quoted by Steven Plank in American Music, V.29,n.4)
In its early years, the Cleveland Orchestra employed Musical Union in performances of popular operas, under the direction of Nikolai Sokoloff.
Musical Union has been featured on several recordings, including the first complete recording of Anton Bruckner's Mass No. 3, led by Maurice Kessler with the Conservatory Orchestra of Cleveland in 1949, and the Verdi Requiem with the Oberlin Orchestra conducted by Dr. Daniel Moe in Finney Chapel in 1988, with soloists Carolyn James, Susan Toth Shafer, Franco Farina, and Gerald Crawford.
The Musical Union is a unique opportunity for Oberlin community members to join with Oberlin College musicians in performing these works. Typically, MU performs one concert a semester, rehearsing Monday evenings through the academic calendar. Concerts are performed in Finney Chapel with the College Orchestra. MU rehearses with Dr. Gregory Ristow, Director of Vocal Ensembles of the Oberlin Conservatory.
Oberlin College MU Page - nice pictures!
"The Musical History of Oberlin," at the Oberlin Heritage Center
Recent articles about Musical Union
Oberlin College News Center, May 20, 2015, announcing the arrival of Dr. Gregory Ristow
The Oberlin Review, review of our May 8, 2015 concert
ConNotations, blog entry and review of our December 7, 2014 performance of Mozart's Requiem
Oberlin College News, November 16, 2012, celebrating our 175th season with Mozart's Great Mass in C nimor
LorainCounty.com, on November 17, 2011, announcing Dr. Jason Harris, conducting.
Tina Wu's YouTube recording of our December 7, 2008 performance of Verdi's Requiem, Dr. Hugh Floyd, conducting
Program of a concert from 1862