Founded in 1837, the 140-voice Oberlin Musical Union is the second-oldest continuing choral tradition in the United States. (Only Boston's Handel and Haydn Society, founded in 1815, represents a longer ongoing tradition.) This group performs the great works for chorus and orchestra. Recent presentations include Lauridsen's Lux Aeterna, Orff's Carmina Burana, Haydn's Creation, Ravel's Daphnis et Chloé, Brahms' Ein deutsches Requiem, Verdi's Requiem Mass, Poulenc's Gloria, and Beethoven's Missa Solemnis.
The Musical Union is a unique opportunity for Oberlin community members to join with Oberlin College musicians in performing these works. Typically, MU performs one concert a semester, rehearsing Monday evenings through the academic calendar. Concerts are performed in Finney Chapel with the College Orchestra. MU rehearses with Dr. Gregory Ristow, Director of Vocal Ensembles of the Oberlin Conservatory.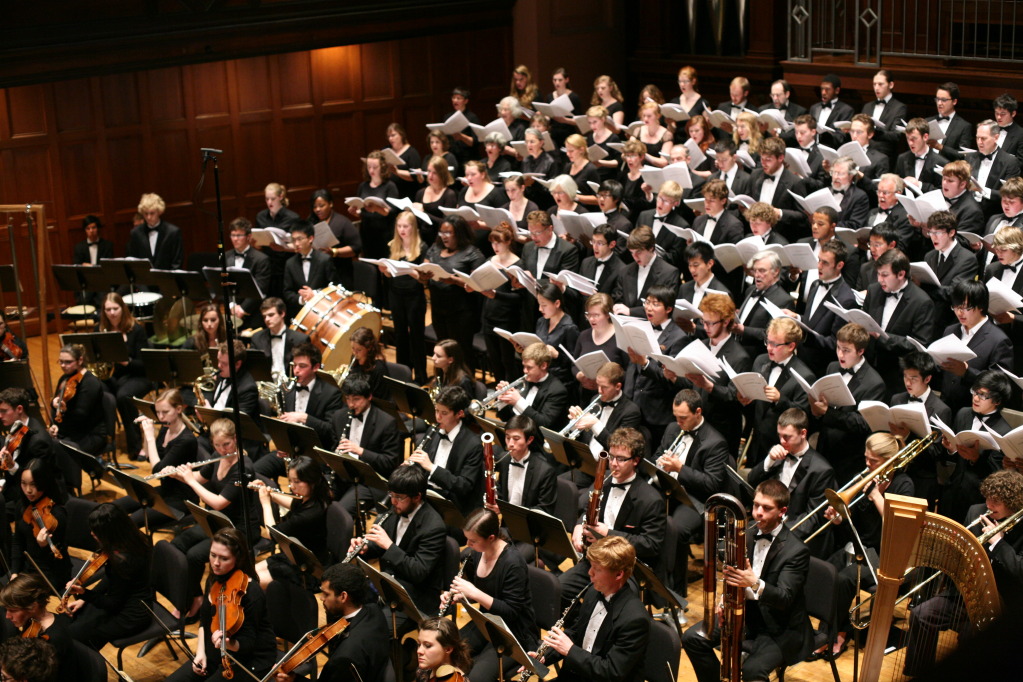 Photo by John Seyfried.
The Musical Union was founded by George Nelson Allen, who transferred to Oberlin Collegiate Institute in 1836, after finding his "liberal views on reform and theology" in conflict with those held at Western Reserve College in Hudson, Ohio. While still a student here, Allen was appointed Instructor in Science of Music, and he needed a choir.
Planning on joining? Please let us know you're coming by clicking here
If you know other singers who should be singing with us -- maybe those who've sung in the past but not recently, singers you know from a church or community choir, or that guy who's always humming beautifully at Slow Train -- please reach out to them, give them my email (gristow [AT] oberlin.edu), and encourage them to join us for a delightful year of music making.
You are our greatest recruitment tool, and so I hope you will do all you can to bring in as many people as possible in the next few weeks.
Can't make it to our concert? Listen to it live! or Purchase a CD recording.
MU Resources
Spring, 2017
April 30, 2017
Francis Poulenc, Gloria
CV Stanford:
Farewell My Joy (Op. 119, #2)
Heraclitus (Op. 110, #4)
Quick, We Have but a Second
The Haven (Op. 127, #4)
The Blue Bird (Op. 119, #3)
Peace, Come Away
Past Performances:
---
Orff: Carmina Burana
---
Jean Langlais, Messe Solennelle
Francis Poulenc, Stabat Mater, OC Choir
organ works by Langlais

---
Bernstein, Chichester Psalms
Stravinsky, Symphony of Psalms
---
May 3, 2015
Dr. Jason Harris, conducting
Scott VanOrnum, organ
---
December 7, 2014
Arts & Sciences Orchestra,
Oberlin College Choir and MU
Dr. Jason Harris, conducting
Meryl Dominguez, soprano
Kayleigh Decker, mezzo-soprano
Daniel McGrew, tenor
Aaron Keeney, bass

---
May 4, 2014
Oberlin College Choir,
Dr. Jason Harris, conducting
Arts and Sciences Orchestra,
Dr. Philip Highfill, conducting
Alyssa Hensel, soprano
Marisa Novak, alto
Daniel King, tenor
Eric Fischer, bass
---
December 8, 2013
Oberlin Musical Union
Oberlin Conservatory Orchestra
Raphael Jiménez, conductor
---
May 5, 2013
Oberlin Musical Union
Scott VanOrnum, organist
Jason Harris, conductor
---
December 9, 2012
Jason Harris, conductor; Salvatore Champagne, tenor
Timothy LeFebvre, bass; Ellie Dehn '02, soprano
Marcy Stonikas '02, soprano
"Stirring...pulled it off with joy." -- the Oberlin Review.
"the performance really soared" -- Nick Jones, ClevelandClassical.com
---
Brahms: Nänie, Op. 82
Sibelius: Finlandia, Op.26
Prokofiev: Aleksandr Nevskiy, Op. 78
May 6, 2012